How To Maintain Good Client Relationships, and improve Client Retention?
If you are in a position handling client relations or a person who wants to earn people's attention, you have come to the right place to find all your questions answered and some must-do tips that will surely boost your skills in client relations and will give your desirable results.
Maintaining a good client relationship should be a prime motive to focus on in any business because client relations lead to recommendations and further leading to repeated business with those clients. Thereby, adding only goodness to your company's welfare, growth, and success. Companies that only interact with their clients at the time of a transaction may have a probability of losing their clients than those who interact frequently.
In this blog, you will learn why a good client relationship is essential to run a business and some easy tips to be in touch with your clients every day and fetch you a reputation of a strong partner.
Why a good client relationship is essential to run a business?
Good client relationship acts as a solid foundation for the development of the company. A long-term relationship with clients will surely plate you with recognition, recommendations, and makes it easy for your company to receive projects from those clients without much-needed effort. That leads to building trust and adds only the overall success of your business.
It is important to understand the value of the first transaction with your customer. Excellent service along with influential communication skills will make your client relationship sustain for a long time.
Well, we do know now why is it essential to keep good client relations but in order to maintain it, you need to follow some steps. Here, we have some tips that will help you to strengthen as well as maintain long-lasting client relationship:
Learn about your client's work and where they are from?
Make communication easy for your clients
Knowing different Languages helps
Check-In Frequently
Let your work show your expertise
Ask for Feedback
Make your clients feel special
1. Learn about your client's work and where they are from?
Do your research on the company or team or individual clients and get to know about their past projects. Collect information as must as possible. Knowing beforehand adds up to your confidence, makes you work effectively, and marks a positive impression on your client.
We know that every country has its own culture and knowing where your client is from provides you with ample room for topics to discuss on. In that way, you are making the client feel comfortable to talk to you and indicating like-mindedness, they would be delighted to hear you out with regards to why they should choose your organization.
2. Make communication easy for your clients
Make yourself reachable on all possible platforms, so that clients find it easy to communicate with you whenever they need your opinion and support in business or in life. Offer them multiple means to communicate to you through phone calls, WhatsApp/WhatsApp Business, Google meet, emails, or social media platforms. Regular communication helps to assess the project and answer their questions on a frequent basis.
Related: How to write cross-platform responsive emails to your clients?
3. Knowing different languages helps
It is always a bonus to know different languages if you are frequently communicating with clients worldwide. As it helps to understand your clients' requirements and conveying your message to them becomes a boon on both ends. If you have an important client with whom communicating in English won't let you help them but if you know their language then it would not only be easy for them to communicate but also will beneficial for future projects.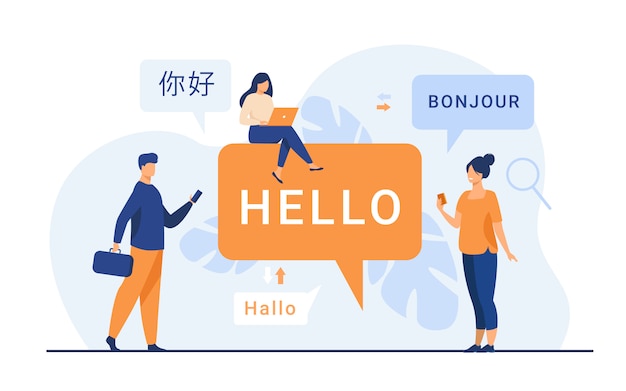 4. Check-In Frequently
Frequently checking-in staying updated during a project helps to stay organized and keep communication on-going. It's something basic that helps on knowing one another by respecting each other's time. Even after you are done with the project, always keep-in-touch, get time out to meet your clients, and celebrate work. Create a casual environment for clients to be comfortable and trust you to do more business in the future.
5. Let your work show your expertise
Sharing your knowledge to your clients and making them believe is in a vision of your organization and giving satisfactory results to them only makes you more reliable and an expert in the eyes of your clients. Recommending clients the right choice to make regarding things like events, career choices, and expansion of business makes them trust you more and you earn to be exceptionally qualified in your field. Hereby, a strong client relationship is maintained and balanced.
6. Ask for feedback
It's important to know what you are doing right or whether you need improvement. Acknowledge it with your head high and be open to suggestions. With a regular feedback loop, to make them realize that your point of view is important so that you could serve their needs better, and it's not always about building a base. Listening and following their suggestion would say more about yourself, they would understand that you are flexible and this will have a strong connection over time.
7. Make your clients feel special
Make it a note to thank your clients for doing business with you. Show gratitude at every possible occasion be it on birthdays, try to celebrate your achievements or festivals with your clients, a small gesture of personalized gifts, and your own way of greeting them. A way to get back to your clients whenever they need your services again. Possibly, arrange private meetings to share your vision about what's next.
At the time of the pandemic, we are glad to share our best on client relationships. There are no shortcuts to success, every business has its own chapters of progression but businesses that are known to maintain long-term client relationships are sure to be successful.
"Remember, today is the tomorrow you worried about yesterday." – Quote by Dale Carnegie